Hardware
Ingredients
6 Large Eggs

6 Slices Of Bacon
Green Onions
Salt
Pepper
3 Slices of Bread (I used French Toast Bread!)
1/2 to 1 Tbsp of Butter
1/2 Cup Shredded Cheddar Cheese
View more for the recipe instructions, nutrition info, and pictures!
Instructions
Preheat the oven to 325 degrees.

Microwave bacon until it is just before cripsy (or cook it in a skillet if you prefer).  For my Microwave plate it says 90 seconds, flip, 90 seconds.   I did it for 1 minute, flip, 1 minute.  You want it to be still flexible!  Cut them in half, length-wise (so you get two long strips).

Use a rolling pin or a press to flatten out the slices of bread.  Use a glass or a measuring cup to punch out circles from the bread to fit into the cups.
Dice the Green Onions finely.
Use the butter to oil up the muffin tins.  Make sure you get the bottoms and sides of each cup.
Place the slices of bread into the bottoms of the muffin tins.  Wrap the bacon around the outside edge of the tins, but above the bread.
Place an egg into each up, so that is right on top of the bread and in between the bacon.
Sprinkle green onions, salt, and pepper on top of the eggs.
Place the muffin tin in the oven, bake for 20 minutes.
Remove the tins, sprinkle on the cheddar cheese (if the eggs have poofed up a bit go ahead and poke them with a fork to get them to settle).
Place the muffin tin back in the oven, bake additional 5-10 minutes, until the egg whites have firmed up.
Pull the tin and immediately remove the cups.  Run a knife along the edges to separate the egg and bacon from the edge of the cup.
Serve!
Nutrition Info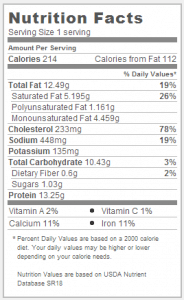 Pictures