This is a recipe I once again shamelessly steal from another site, Skinny Taste.  It is delicious and SO easy to make.  I made a double because I wanted enough to last a week.  Here's what I used:
2.6 lb (40oz) 99% Fat Free Ground Turkey Breast
2 Large White Onions
2 (28oz) cans of diced tomatoes (56oz total)
2 (16oz) cans of tomato sauce (32oz total)
2 (4.5oz) cans of chopped chilis, drained (9oz total)
2 (15oz) cans of chickpeas, undrained (30oz total)
2 (15.5oz) cans of black beans, undrained (31oz total)
2 (15.5oz) cans of small red beans, undrained (31oz total)
4 tbsp chili powder
For the toppings:
Red Onion, chopped
Fresh Cilantro, chopped
Cheddar Cheese, shredded
Directions:
Chop and slice turkey, then brown it in a skillet with the onions.
Cook the turkey until no longer pink.
Add beans, chilies, chickpeas, tomatoes, tomato sauce, and chili powder to the crock pot and mix well.

Drain fat from the pan, and transfer the turkey to the crock pot.

Cook on high 6-8 hours.

Garnish with onions, cilantro, and cheese (these ingredients not factored into the recipe nutrition info).

Made about 20 servings of roughly 3/4 a cup (205 grams) for me.
Nutrition info: 215 Calories, 3 Grams of Fat, 23 Grams of Protein, 28 Grams of Carbs, 9 Grams of Fiber, 6 Grams of Sugar.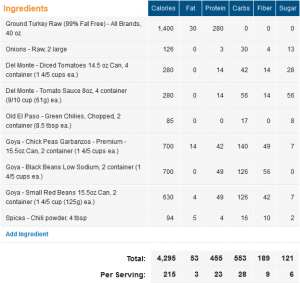 This recipe will warm you to the very core, but isn't overly spicy.  Add some chopped jalapenos or some hot sauce to get that bonus kick.
Enjoy! 😀