This is a recipe I am shamelessly stealing from Paleo Grubs because it is fucking delicious AND healthy.  I modified it a bit because I thought it would be delicious with just a little bit of shredded cheddar added on.  Turns out I was right.  It does add about 90 calories and 7 grams of fat per serving, so feel free to omit it if you want.  It's worth it in my book.
Ingredients:
4 Bell Peppers (about 24oz total; any color, the supermarket had a pack of 4 multi-color which was perfect for me!)
8 Large, Grade-A Eggs
2 Cups of Chopped, White Mushrooms (size after chopping, weight after chopping was approximately 6 oz)
2 Cups of Chopped Broccoli Florets (size after chopping, weight after chopping was approximately 6 oz)
1/2 Tsp Cayenne Pepper
Salt and Pepper, To Taste
3/4 Cup of Shredded White Cheddar (I used Nature's Promise Organic)
Directions:
Preheat Oven to 375 F.
Dice up your mushrooms and broccoli into small chunks.

Crack eggs into a bowl.  Sprinkle cayenne pepper, salt, and pepper onto eggs.  Beat together with a whisk until consistent.

Mix the eggs and chopped veggies together into a big bowl.
Slice the peppers in half.  Try to ensure a flat side.  Green and Red Peppers seemed to be mostly symmetrical which allowed flat bottoms.  I had problems with the Orange and Yellow Peppers.

Fill the peppers with the mixture of broccoli, mushrooms, and cheese.   I used a 2/3 cup measure and it seemed to fill each pepper pretty well!


Place the peppers on a baking sheet and bake for approximately 35 minutes.

Let cool for approximately 5 minutes.
Slice in half, top with hot sauce (optional but delicious). Enjoy. 🙂

Serves approximately 4 (1 pepper each).
Nutrition Info:
296 Calories, 18 grams of fat, 22 grams of protein, 16 grams of carbohydrates, 6 grams of fiber, 8 grams of sugar.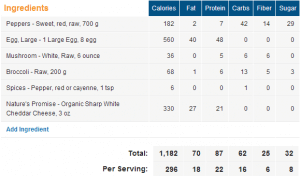 Enjoy folks!  This one is pretty damn tasty!