A few days ago I found a link for One-Pan Pasta circulating around on Facebook and said I have to give it a shot.  It looked tasty and sounded damn simple.  The original link is available here: Lottie + Doof.
I modified it slightly when I cooked it and I must say, it came out AMAZINGLY well.  It was absolutely delicious.  I had a long weekend and let me say, it does make a difference as opposed to keeping everything separate.
Ingredients:
10 ounces linguine
10 ounces grape tomatoes; quarter or half them so they are roughly the same size
1 onion; thinly sliced (~7 ounces)
6 cloves of garlic; thinly sliced
1/2 tsp red pepper flakes
3-4 sprigs of basil (additional used for garnish; torn)
3 tbsp extra virgin olive oil (additional used for garnish)
2 tsp salt (additional used for garnish)
1/4 tsp pepper (additional used for garnish)
4.5 cups of water
Parmesan cheese (for garnish)
Hardware Needed:
Knives for slicing
Large skillet
Tongs
Steps:
Add pasta to the skillet.
Add tomatoes to one side of the skillet.
Add onions to one side of the skillet.
Add garlic to both sides of the skillet.
Add red pepper flakes to the skillet (sprinkle throughout)
Add basil leaves to the skillet (spread throughout)
Add oil to skillet (drizzle primarily over tomatoes and onions).
Add salt and pepper to skillet (sprinkle throughout)
Add water to skillet.
Turn skillet to high until water boils.
Turn water to medium-high and maintain boil for about 9-15 minutes (took me 13 minutes to reach al dente pasta)
Use tongs to turn pasta and stir mixture frequently.
Basically cook it down until the water has evaporated.
Season with additional salt, pepper, oil, and Parmesan.
Divide among 4 bowls.
Garnish with basil.
Nutrition Information:

Pictures:
Pre-Cooking (in Pan):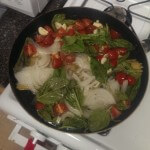 Post-Cooking (on Plate):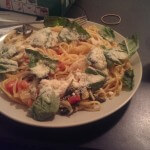 Final Thoughts:
Cooking this pasta in one pan results in a creamy, rich sauce coating EVERYTHING and basically being absorbed into the pasta, the tomatoes, the onions, EVERYTHING.  You taste the delicious garlic and red peppery goodness in every bite.  This is not something you would want to cook in two different pans and hope for a similar outcome — it just won't be the same.  I can't really describe it, just TRY IT.  It's delicious.  Use the freshest basil you can find — mine wasn't that great but still was delicious.  Additionally, you may wish to add a little bit of white wine at the very end, maybe a minute or two before removing from the pan — that would really make all the flavors in this dish *pop* off the plate.  Overall, for ~20-30 minutes of work you can end up with a damn tasty meal for 2-4 people.
Serve with some crusty garlic bread for the ultimate experience.
Enjoy!