This is a recipe I found via Reddit.  The thread was here.  The actual recipe link is here.
I am posting it here so I don't lose it, but so I can also amend some notes.  Specifically, I changed the amount of butter, and I also measured to the gram how much of a certain ingredient I used.  I prefer this to relatively meaningless quantities like "4-5 small potatoes" or "1/2 onion" which are basically subject to what size the ingredients are.  This is important for me because I use MyFitnessPal to log what I eat (yay weight-loss journey!).
Without further delay:
Hardware:
Knife
Tongs
Cutting Board
Drain Pan
Cast Iron Skillet (I used a 12″)
Stove (Gas or Electric)
Oven (Gas or Electric)
Ingredients:
5 bone-in, skin-on chicken thighs (2.5 Lbs or 1150 grams)
Salt and Black Pepper, to taste
3 Tbsp Unsalted Butter, Divided into 2 Tbsp and 1 Tbsp.
8 Cloves of Garlic, Minced (50 grams)
1/2 Onion, Chopped (250 grams)

I used Red here because I love red onions.

4-5 Small potatoes, Chopped (425 grams)

I used Red potatoes because I find they hold up better in the oven than White potatoes.
I chopped the smallest potatoes into quarters, and the largest into eights.  You want them to be roughly the same time for the sake of even cooking.

1 Green Bell Pepper, Chopped (125 grams)
1/3 Cup to 1/2 Cup Brown Sugar (I used 1/3 Cup)
1/3 Cup to 1/2 Cup Brown Sugar (I used 1/3 Cup)
Green Onion, Sliced (optional; as garnish)
Directions:
Preheat oven to 400 degrees F / 200 degrees C.
Season chicken with salt and pepper.
Place a large cast-iron skillet over medium heat.
Add 2 Tbsp butter to skillet.  Get the skillet and butter hot hot hot.
Place the chicken, skin-side down, in the skillet.  Sear until golden brown, about 7-10 minutes (I would recommend doing this in 2 batches)
Remove the chicken and set aside.
Drain the excess fat and oil from the skillet.
Place 1 Tbsp of butter in the skillet.
Add garlic and onion to pan, cook for 1-2 minutes.  Stir frequently.
Add bell pepper and potatoes, cook for 4-5 minutes.
Remove skillet from heat, place the chicken on top of the vegetables, skin-side up.
Mix Sriracha and Brown sugar in a bowl until smooth.
Coat chicken with Sriracha Brown sugar mix, then use the rest for the veggies.
Place pan in oven and roast, 30-40 minutes, until cooked and glazed.
Nutritional Information:

I served this with some rice and let me tell you it was AMAZING.
Here's another picture.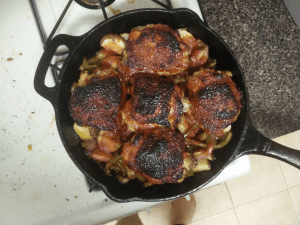 -M, out