As some may know, I love to fish.  Absolutely love it.  I'm not amazing at it, but I'm not horrible at it either.  Last year, every time I went out I caught SOMETHING.  Maybe not a keeper, but definitely brought a fish up, took a picture, measured it, and put it back in the water.
All that being said, other than my two trips to the Manasquan Inlet this year, I've had pretty crummy luck.  I didn't catch many fish at all this year.  All my usual fishing spots were taken.  Even when I went to Michigan I didn't get so much as a bite.  It was a very frustrating year.  I honestly began to question any ability at fishing I thought I had.  It all started when I broke my main fishing rod.  Everything went downhill from there (between using a hand me down,
Until yesterday.
Yesterday was perfect.  Joe and I got to spot near Kingston and did some fishing in the Millstone River around 6:30am.  Joe and his dad had fished that spot a lot, a long time ago.  He said there were carp, catfish, even some bass.  We'd been to this spot twice before today this year, and caught barely anything.  Last year we had better luck at that spot, but this year it felt dried up and empty.  Yesterday turned it around.
Following some advice from r/fishing I went out equipped and intending on catching panfish (sunnies, crappies, rock bass, etc) on a light cast line, while setting up my (new!) main rod for it's maiden fishing trip for catfish.
Success!
After casting my main rod out (with hot dogs) I turned my attention to second light rod.  I put some Gulp Hawg on a small hook with a bobber waited.  Within a minute, I saw the bobber dip. And dip again.  And then took off.  I yanked in hard, and felt resistance.  Fishie!   I reeled it in, and was thrilled to see an 8″ crappie on the end of the line.   It wasn't the one in this picture (which is maybe 6″) but nevertheless, here's an example.  We initially thought it was a rock bass, but it was a white crappie in hindsight.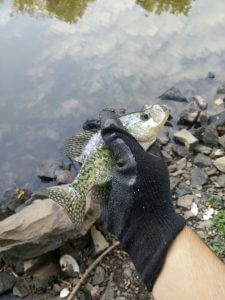 Mission accomplished.  I was happy.  I caught a fish.  I put it back in the water and could have walked away happy at that point.
The Millstone had other plans.
Ring, ring, ring.  The bell on my main line began to jingle.  I ran over, yanked (not hard enough) and felt resistance.  I began to reel in.  The resistance disappeared.  Fish gone. Bait gone.  Sad.
I put more hot dog on the hook, cast off, and went back to the other line.
I cast, and within a minute: a sunnie.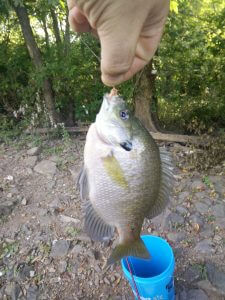 It was an even better day.  This continued for about two hours, before even the crappies and sunnies stopped biting.  Oh well.  I decided to give the main line some attention.  As much as I enjoyed hearing the bell ring and find no fish on the end of it, I was getting tired of it.
I cast with fresh hot dogs, and waited.  I was standing around talking with Joe when I felt a tug.  It went away immediately.  A minute later, another tug.  I yanked hard on the rod, and felt a twang.  The line stayed taught.  The line started to move.  I had a fish.  I started reeling in.  It took about 2 minutes to pull it in.  I got tangled in Joe's line.  He grabbed the net.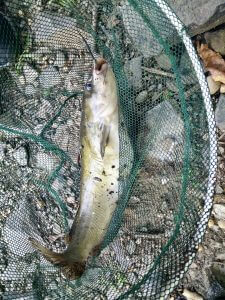 Catfish!
3lb, 18″ catfish.  That's going in the keeper bucket.
It's now in the fridge.  Well, it's filets are in the fridge anyway.
Things picked up right after then.  Joe switched to the Gulp Hawg and caught some crappie and some sunnie too.
When all was said and done we had caught:
4 Crappie (3 for me!)
15 Sunnie (7 for me!)
1 Catfish (that one was mine!)
2 Hooks (all Joe)
1 Branch (that one was mine haha)
1 Clamshell (all Joe)
What a great day, a great way to end the summer, and a great way to spend the Labor Day weekend.
-M, out