This is probably the absolute best slow-cooker chicken recipe I have ever had, and I'm reproducing it here for you all and for record keeping purposes.  It was moist & tender, flavorful, and just all-around delicious.
Ingredients
And that's it.
Instructions
Sprinkle taco seasoning on chicken breasts.
Place one container of salsa in slow cooker.
Place chicken on top of salsa.
Pour second container of salsa on top of chicken.
Add water.
Stir to mix.
Cook on low, at least 4 hours, no more than 6 hours (I did 6 hours).
Done.
Nutrition Information
6 Servings: Approximately 183 Grams of Chicken and 200 Grams of Salsa/Liquid
Each serving: Approximately 420 Calories.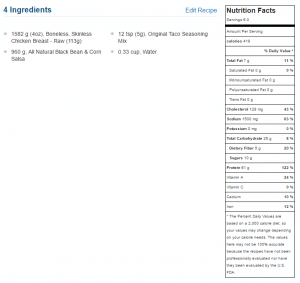 Serving Suggestions
Shred the chicken.  Spread it on top of a whole-wheat burrito wrap.  Place salsa and liquid on top of chicken. Shred ~1 Oz Cheddar Cheese on top of chicken and salsa.  Wrap burrito, and place seam-side down on a hot skillet.  Cook for approximately a minute.  Flip and cook on other side for approximately a minute.  Serve with sour cream, if desired.  Calories (without sour cream): approximately 700.
Yep.
This was delicious.
10/10, would make again.