This is once again a recipe I've pulled from Reddit, and reproducing here for posterity's sake.  It is a recipe I've made exactly once, but it is VERY tasty and I'm very happy with it (except the Blueberry Compote which came out more like a Blueberry Sauce, but I think I have a fix for that).
As always, the result comes before the instructions.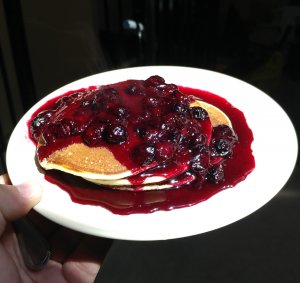 Ingredients for Pancakes
2 Cups Whole Milk Ricotta Cheese
4 Eggs
1.5 Cups Whole Milk
1 Tsp Vanilla Extract
4 Tbsp Lemon Zest (2 or 3 Lemons worth, in my experience)
2 Cups Flour
1 Tbsp Baking Powder
4 Tbsp Sugar
Ingredients for Blueberry Compote/Sauce
2 Cups Blueberries (I used 18oz)
.5 Cup Sugar
.25 Cup Water (Recipe originally called for .5 Cup, but I think reducing it will help big time)
Splash of Grand Marnier
2 Tbsp Lemon Juice (Recipe originally called for 1 Tbsp, but I think increasing it helps the flavors)
Optional Toppings
Powdered Sugar for Dusting
Fresh Blueberries
---
Instructions for the Pancakes
Separate egg yolks from whites.  Keep both.
In a large mixing bowl, whisk together ricotta, egg yolk, milk, vanilla extract, 3 Tbsp of sugar, and lemon zest.  Whisk together until smooth.
Sift flour and baking soda into wet mix.  Mix until fully combined.
In a separate bowl, beat egg whites on high speed until white and foamy.  Slowly add 1 Tbsp of sugar.  Continue beating until hard peaks form.
Gently fold 1/3 of egg whites into the batter.  Fold an additional 1/3.  Finally fold the remaining 1/3.  We're trying to avoid deflating the eggs.
Use a hot skillet set to about 375 F and pour approximately 1/4 Cup of mixture onto skillet.  Original recipe calls to butter the skillet/pan but I found it not necessary to do so.
Cook for 2-3 minutes on first side, 1-2 minutes on second side, or until golden brown.
This made approximately 22 pancakes.  Yum!
Instructions for the Blueberry Compote/Sauce
In a pot or deep pan add blueberries, sugar, water, lemon juice, and Grand Marnier.
Cook on medium, 10-15 minutes, until it reaches a thick-ish consistency.  Keep in mind it will get thicker as it cools!
---
Serving Recommendations
I did 4 Pancakes, a ladle of blueberry compote/sauce, and a dusting of powdered sugar.  The powdered sugar disappeared quickly because my compote was more a sauce, but let me tell you, it was delicious.
---
Nutrition Information
Very delicious.  I made a blueberry compote.  You could probably due blackberries, strawberries, or raspberries and it would be fine.  I wouldn't recommend just butter and syrup though, it just didn't seem right when I tried one with that.
-M, out.
(And full.)